Running Payroll on Topsheet
Topsheet makes the payroll process easy for you by following the steps below:
1. CREATE YOUR PROJECT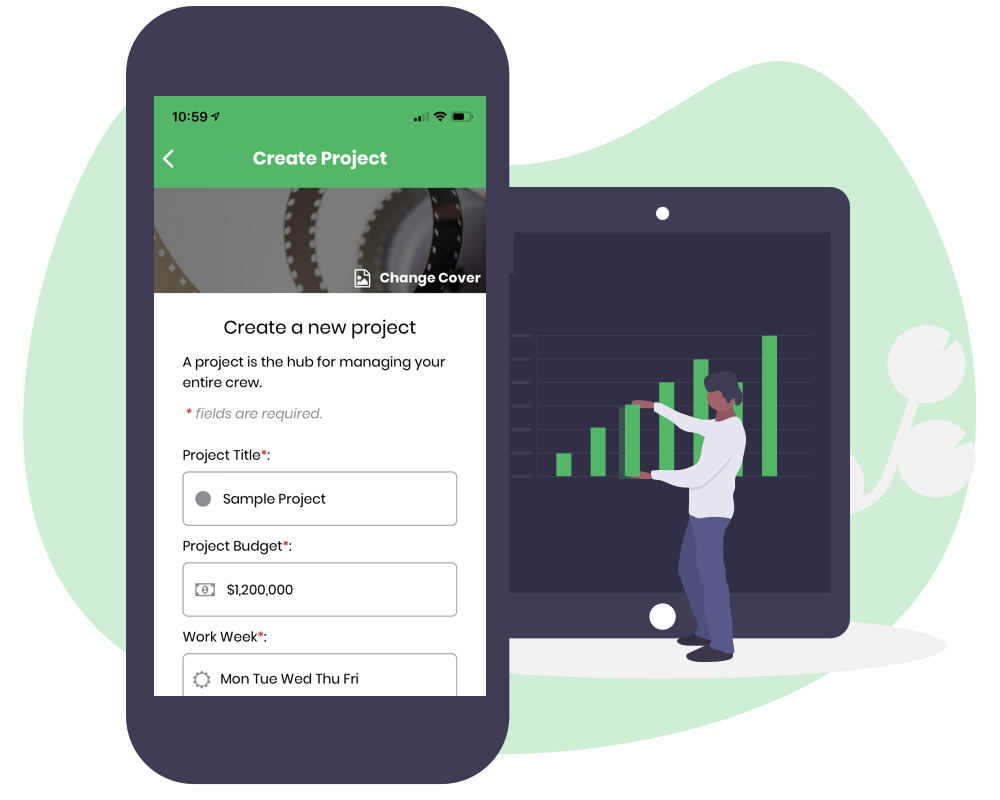 You should create your project ideally 1 week before anyone will be paid. Go to the Projects tab, click the white plus sign to open a new project. Please fill in information about your project - like the project title, the start and end dates, and union information.
2. REGISTER PAYROLL PROJECT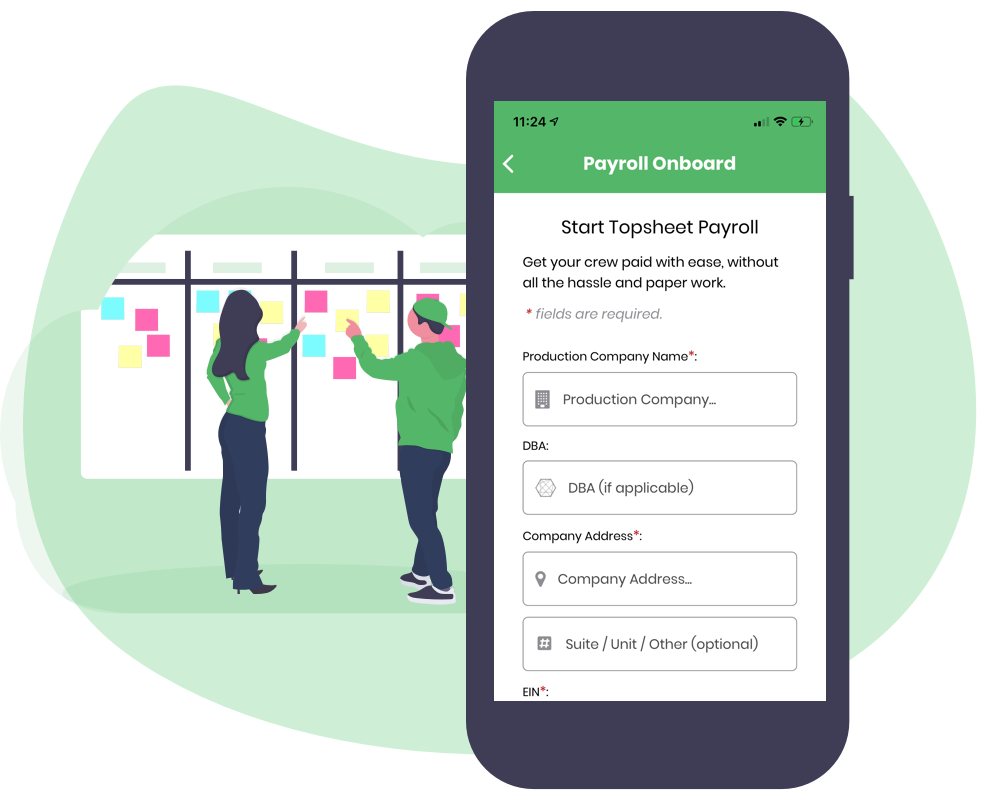 Register your company and connect it to the project. Click on the image of your project and then click on the button in the top right hand corner labeled "Payroll" (See the image above.) Provide information like the shoot locations, and the risk profile for the project.
3. TRANSFERRING FUNDS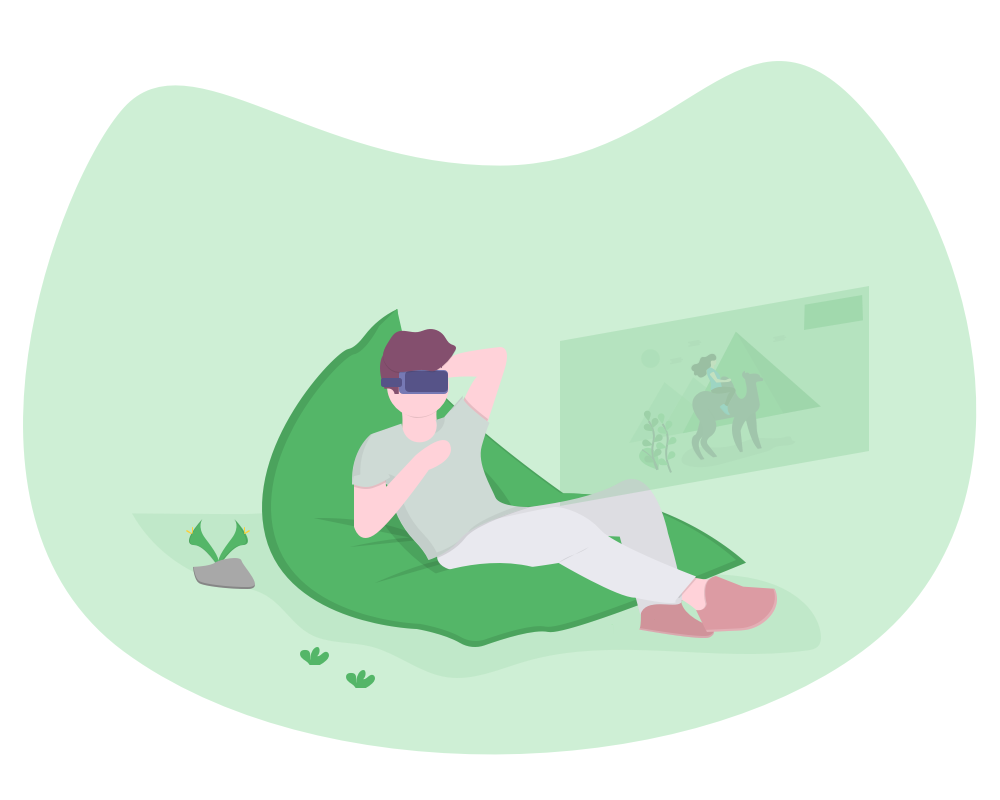 Fund your project by wiring the funds to your account with us. Contact hi@topsheet.io for assistance.
4. INVITE EMPLOYEES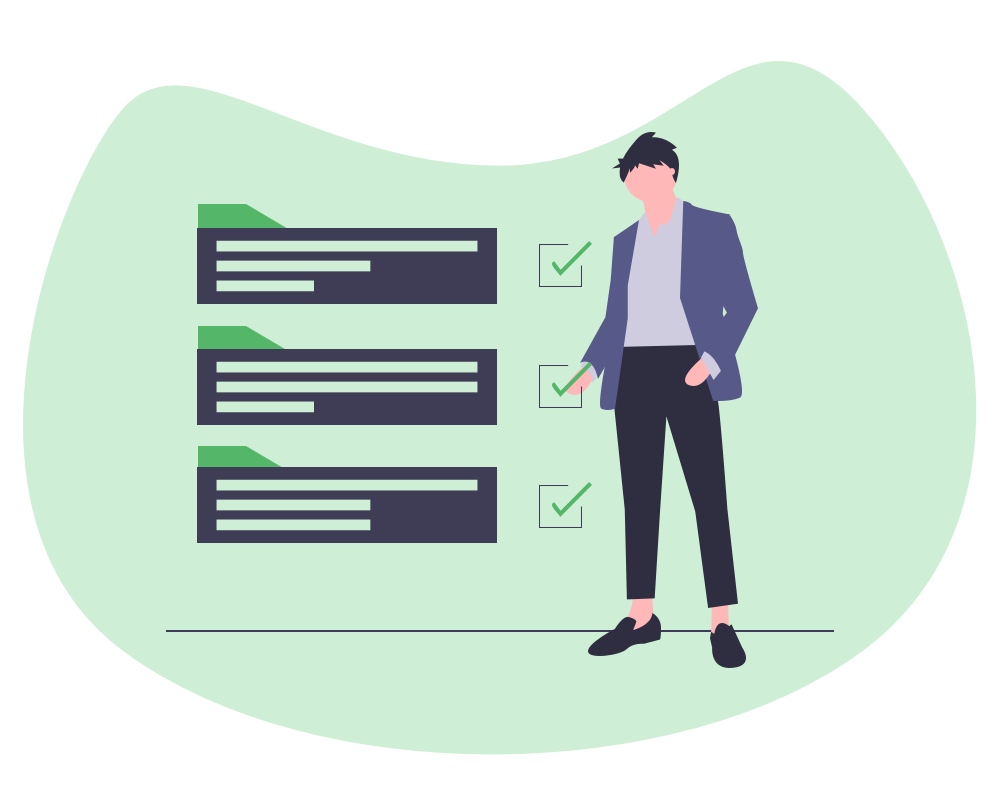 Invite your crew to your project by filling out the start form with their name, cell phone, position, rate, and other information. We will then automatically contact your crew members to download the app, accept the invite and set up their profile in the application. The crew will need to fill out their W4 / W9 information and bank account information in the app to get paid.
5. CREATING CALL SHEETS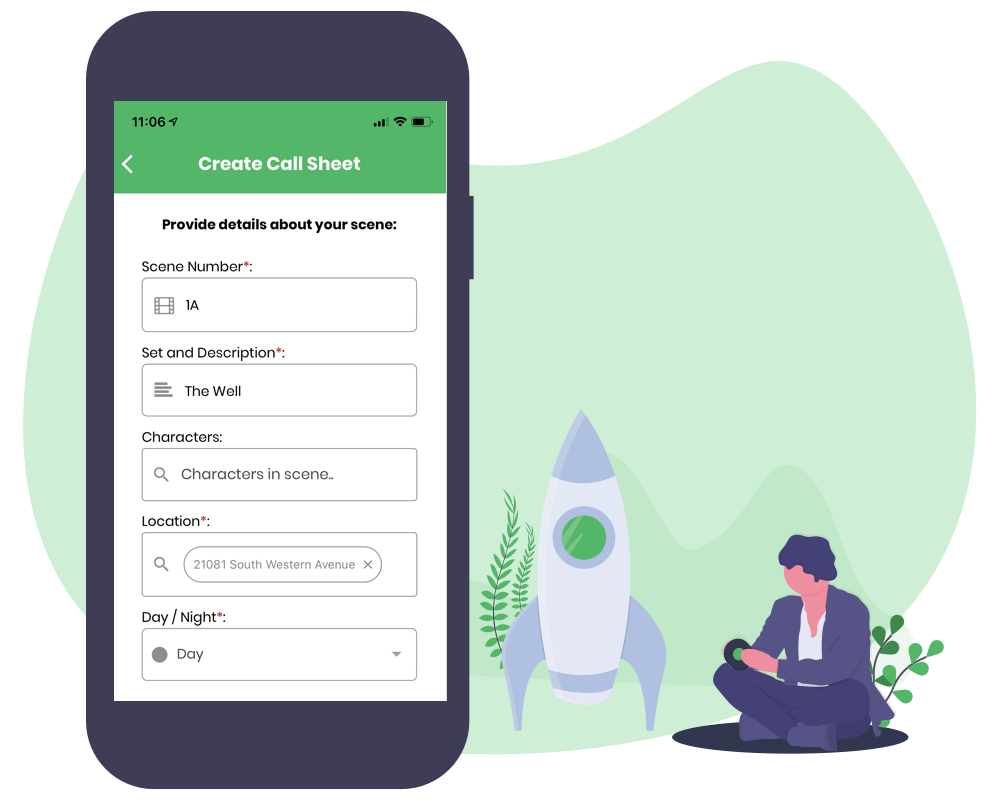 Please note, time cards are mandatory for each and every cast and crew member that needs to get paid. There are two different ways to provide time cards to your cast and crew. 1). Creating a call sheet for every cast and crew member will automatically generate a time card for that day. Or, 2). Scheduling each individual cast and crew member will also automatically generate time cards for each day that the person is scheduled. (see section 6. below) We highly recommend option 1). since it is much easier and faster, especially with larger crews.
Creating a call sheet automatically schedules and creates a time card for your employees to work on a certain day. It will give them all the information for the day, such as call time, scenes, and crew list. You will be able to manage their time cards for the given day. You will want to wait to create a call sheet until after you have finished filling out the start form and all your cast and crew have accepted their invites. Once they accepted invites you will be able to add them to the call sheet. Click on your project, go to the top left hand corner and click on create call sheet. Now enter in crew call and cast call times and meal times etc., click next. Then enter in the information for all the scenes for that day and click next, now choose the location and click next, finally make sure to toggle on all the crew and cast members in that scene and you are done. If someone is not toggled on they will not be part of that Call Sheet and will not have a time card for that day.
6. SCHEDULING CAST AND CREW
You can schedule a cast or crew member by going to the project view section in the app, click on the project you want to use, then once inside the project, click on the cast or crew member you wish to schedule. After clicking on that member you will see a calendar come up, (see image above and screen shot on the left,) now click the circle on the right with the calendar on it that says "Schedule" below it. You will be given the option to quick select all prep, all shoot, and all post days, (see image above and screen shot on the right,) or you can select only the days you want by clicking on those days. After you are done choosing all the days you want to schedule that member for click the "SET SCHEDULE" button on the bottom. Now that member is scheduled for those days and will be able to go to their home view and see and sign time cards for those scheduled days. As an admin you must make sure to schedule yourself for all the days you have cast and crew scheduled so you can approved their time cards.
7. MANAGING TIME CARDS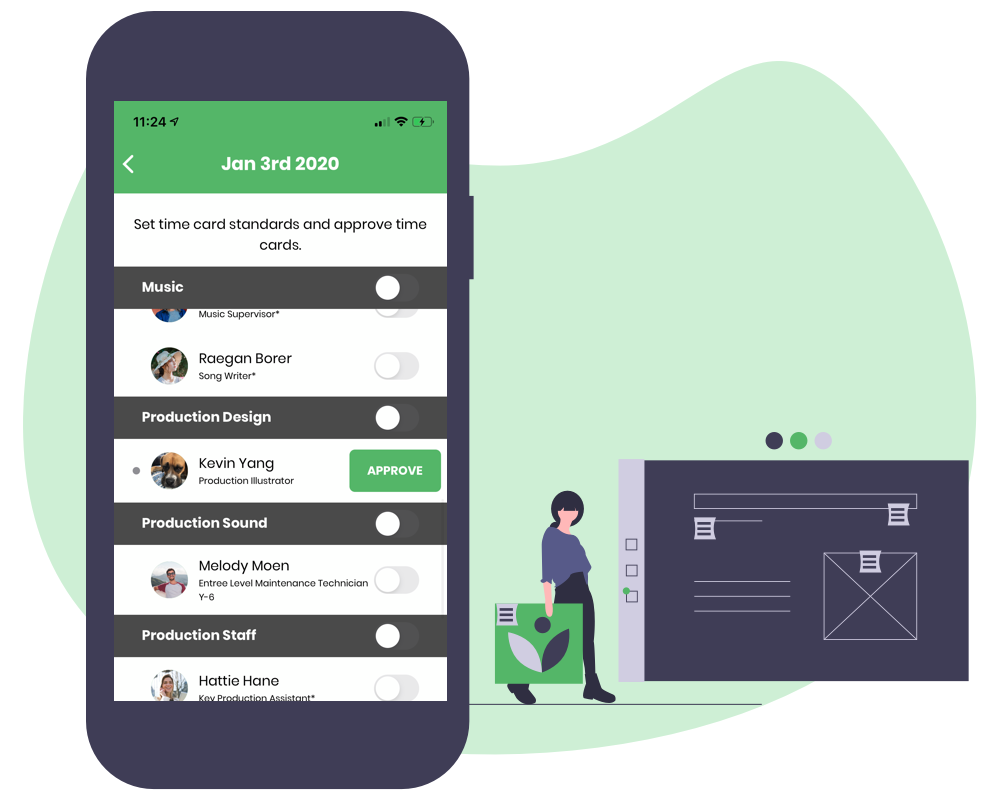 Managing time cards allows you to approve, reject, or fill in "standards" for your crew. Setting standards allows you to set the default times for your crew members for any given day. You can set standards for individuals, or for entire departments, making it easier for your crew members to finalize their time cards. You are the final authority of the flow of money to your crew. You can view, modify, and set any time card before approving the final time cards.
8. PROCESSING PAYROLL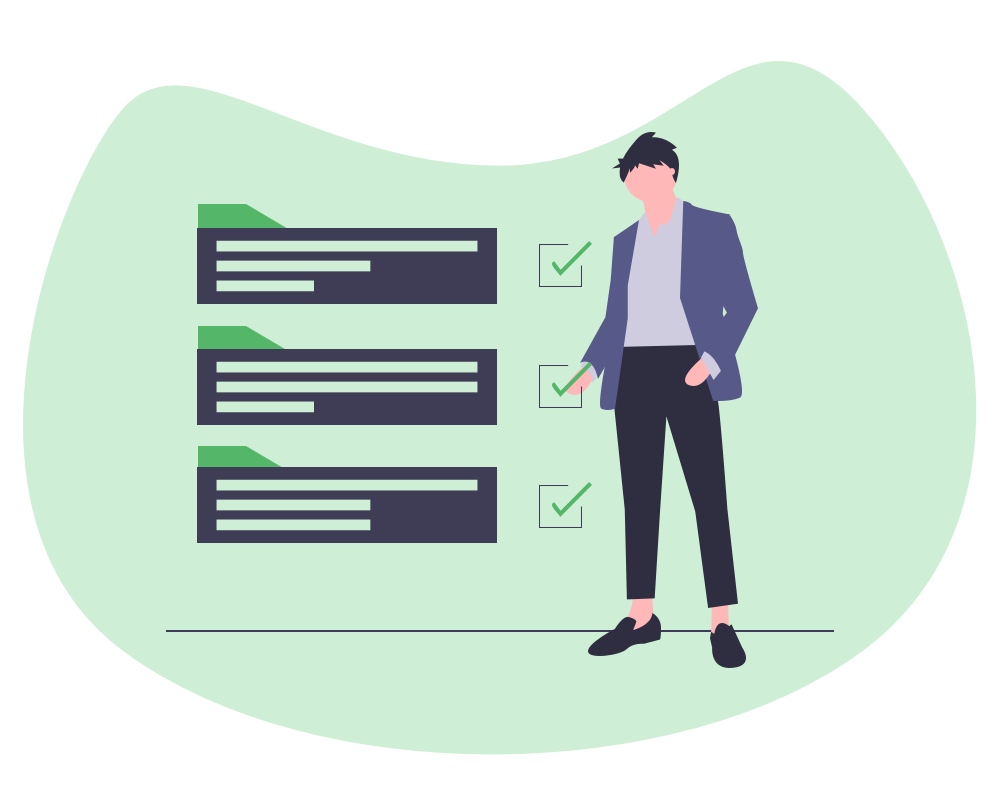 In "Manage Time Cards", once you approve your crews' time cards, we will process payroll for you. As long as your account with us is funded, we will direct deposit your crews' pay stub into their bank accounts. They should receive a paystub within their profile. The money should appear in their bank account within 2-4 business days.
9. RINSE AND REPEAT
For every day you are working on production for the same project, just repeat steps 5-7 to continue paying your crew. It's as easy as that. Topsheet will help keep your payroll compliant.